Installation
The Squall SDK comes as a dynamic framework and requires at least
Xcode 7.0
to run. You can install Squall manually or use it via
cocoapods
.
Download Squall SDK
Cocoapods Installation
The cocoapods integration should be pretty straightforward.
Just add the pod "Squall" to your podfile, run pod install and you should be good to go.
Make sure your deployment target is at least iOS 8 or higher.
Example:
platform :ios, '8.0'

use_frameworks!

target 'MyApp' do
	pod 'Squall'
end
You can also get all the latest changes straight from the Github repo by using:
 pod 'Squall', :git=> 'https://github.com/marcuseckert/Squall'
Manual Installation
Drag the framework into your project and add it to

Embedded Binaries

and

Linked Frameworks and Libraries

.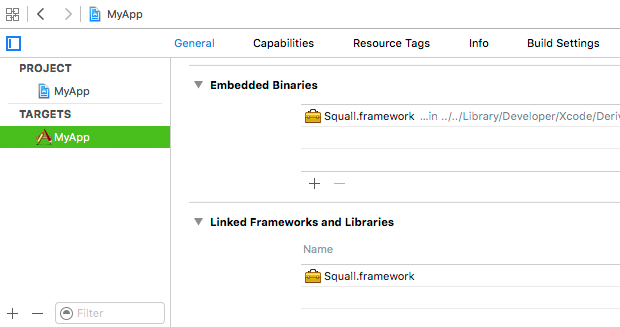 Stripping Invalid Architectures

The Squall SDK runs on both the simulator and the device. Due to a bug in XCode simulator slices of dynamic frameworks are currently not stripped before the app is sent to the App Store resulting in an error message when you try to deploy.

To fix this, add a "Run Script Phase" at the end of the build phases to your target and paste in the code from this link. This should strip all non-valid architectures from the frameworks in the framework folder of your build target before archiving the app.
License
To enable all features, provide Squall with your license key before you use any of the Squall classes.
- (BOOL)application:(UIApplication *)application didFinishLaunchingWithOptions:(NSDictionary *)launchOptions {
    [Squall setLicenseKey:@"YOUR-LICENSE-KEY"];
    return YES;
}